"Jacques Guillet's paintings are a timeless symphony of colors and shapes,
a classic art reinvented to captivate souls and awaken passions."
Gabrielle GERMAIN
New
Immerse yourself in the "Landscapes of Elsewhere, my new series of paintings that reveal mysterious horizons.
Let your imagination run wild and explore these unknown lands.
Welcome to my new universe where reality and imagination meet. The "Landscapes of Elsewhere" promise you a journey beyond the borders of reality... to be continued
The emotion of travel ...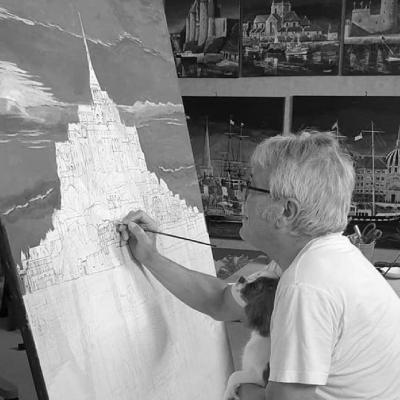 Jacques Guillet interprets reality with his colors, revisiting for us architectural works, ports, landscapes with sensitivity and a warm palette, characteristic of his signature..
This passionate man who started drawing from childhood awakens happy memories in us thanks to a universal language, that of the heart...
true creator of atmospheres, the painter works on vinyl, sharing his favorites for subjects that move us, awaken our memories, make us want to go on a getaway to these places where time seems suspended... Jacques Guillet takes us to those elsewhere that do good, populated by symbols of our heritage that remind us how much the beauty of the world brings us together.
The artist also produces seascapes in homage to his roots, landscapes of Provence where he lived for a few years, portraits of musicians who touched him... states of grace which his brushes do honor to each canvas... Her hands bring to life these unique moments, these parentheses of life to allow us to feel them again and again, always discovering a new detail that challenges us and makes us dream.
Jacques Guillet's paintings affect all generations and all cultures. Their soft light, their warm colors create around us a real cocoon of well-being, moments to be shared by the eyes and by the heart. In front of each painting, young and old tell each other stories that echo their moods, their memories, their dreams... in a benevolent and comforting bubble.
Marie Agnes MOLLER
Freelance journalist, art critic
"To paint is to bring out an image which is not the natural appearance of things, but which has the force of reality"
Raoul Dufy, Artist, Painter (1877 - 1953)